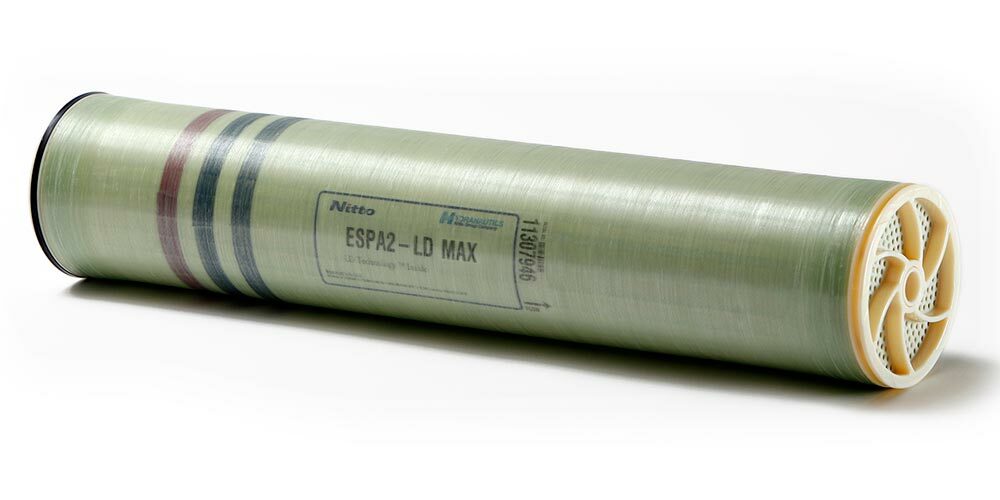 Reverse Osmosis (RO) membrane is water purification component that separates materials less than 0.001 μm in size such as the separation of monovalent salts from water, as practised in the desalination of seawater and brackish water.
RO membranes are typically capable of removing 90% – 99% of contaminants such as total dissolved solids (TDSs) in the water supply. The membranes are usually manufactured as a flat sheet of thin composite membranes consisting of an active polyamide layer (high permeability but impermeable to dissolved salts and particulate matter) supported by a porous polysulphone layer wound round a central collection tube.
In a water purification process, RO technology inverts the natural direction of osmotic flow by applying external pressure, such that the pure solvent (water) is forced across a semipermeable membrane toward a lesser concentrated solution. To apply the pressure necessary to reverse the natural osmotic flow of the pure solvent, RO systems can require substantial amounts of energy. This energy is commonly provided by a high-pressure pump 'feeding' the RO machine.
RO plant for industrial applied as: desalination of seawater and brackish water; in the production of ultrapure water for the electronic, pharmaceutical and energy production industries; decontamination systems for urban and industrial water.
For area which has large source of natural humic water or peat water, RO can be applied to produce clean water for community water supply. For high resistivity water are designed with RO in advance of deionization (DI) in order to maximize DI resin longevity. Due to its effectiveness, RO is one of the predominant technologies encountered in well-designed high purity (ultrapure) water systems.
Ultrapure water, RO applied to produce demineralization water for the application of RO as a final step of wastewater treatment for water reuse and valuable component recovery seems to be promising in wastewater reclamation.
HUI can provide you with membrane elements from most leading membrane producers.
Contact us for technical support and inquiry.
Energy Saving (ESPA)
ESPA1
ESPA-2514
ESPA-2521
ESPA-2540 (replaces ESPA1-2540)
ESPA-4014ESPA-4021 (replaces ESPA1-4021)
ESPA-4611
ESPA-4641
ESPA-50
ESPA-75
ESPA1-2012
ESPA1-2521
ESPA1-4014
ESPA1-4021
ESPA1-4040
ESPA1-LD-4040
ESPA1-8040
ESPA2-1640
ESPA2-4040
ESPA2-LD-4040
ESPA2-LD
ESPA2-LD-MAX
ESPA2-MAX
ESPA2-365
ESPA2-8040
ESPA2+
ESPA-MAX-8040
ESPA2 MAX
ESPA3-4040 (out of production)
ESPA3-8040 (out of production)
ESPA4-4040
ESPA4-LD-4040
ESPA4-8040
ESPA4-LD
ESPA4 MAX
ESPA-B
ESPA B-MAX
ESPA B-1640
ESPA UP-8040
Seawater (SWC)
SWC-2514
SWC-2521 (replaces the SWC2-2521)
SWC-2540 (replaces both the SWC1-2540 and SWC2-2540)
SWC-4014
SWC-4021
SWC1-4040 (check SWC5/6)
SWC1-8040 (replaced by SWC4)
SWC2-4040 (check SWC5/6)
SWC2-8040 (replaced by SWC4)
SWC3-8040 (replaced by SWC4)
SWC3-plus
SWC4-plus
SWC4+8040
SWC4B-8040
SWC4B-MAX-8040
SWC4-LD
SWC4-1640
SWC4B-LD
SWC4B-MAX
SWC4-MAX
SWC4B
SWC5-1640
SWC5-4040
SWC5-LD
SWC5-LD-4040
SWC5-MAX
SWC6-4040
SWC6-LD-4040
SWC6-8040
SWC6-MAX
SWC6-LD
High Rejection (CPA)
CPA-4040E
CPA2
CPA2-4040
CPA2-8040
CPA3
CPA3-8040
CPA3 LD-8040
CPA4
CPA4-8040 (replaced by CPA3)
CPA5-LD
CPA5-LD-4040
CPA5-LD-8040
CPA5 MAX
CPA5-max-8040
CPA7-LD
Low Fouling (LFC)
LFC1
LFC2
LFC3-LD
LFC3-LD-4040
LFC3-LD-8040
LFC1-4040 (use LFC3-LD)
LFC2-4040 (use LFC3-LD)
LFC1-8040 (use LFC3-LD)
LFC2-8040 (use LFC3-LD)
Sanitary
SanRO ESPA2
SanRO CPA3
SanRO LFC3
SanRO CPA4
SanRO HS-4
SanRO HS-8
SanRO HS-4040
SanRO HS2-4040
SanRO HS-8040
SanRO HS2-8040
DairyUF 5K 8
DairyRO
DairyRO 4
DairyUF 10K 4
Dairy NF 4
Nano Filtration (ESPA)
ESNA1-4040
ESNA1-LF1-LD-4040
ESNA1-LF2-LD-8040 (replaces ESNA1-8040)
ESNA1-LF2-8040
ESNA1-LF-LD
ESNA1-LF2-LD
ESNA-LF2-LD-4040
NANO-BW
NONO-BW-MAX
NANO-SW
Energy Saving (ESPA)
ESPA1
ESPA-2514
ESPA-2521
ESPA-2540 (replaces ESPA1-2540)
ESPA-4014ESPA-4021 (replaces ESPA1-4021)
ESPA-4611
ESPA-4641
ESPA-50
ESPA-75
ESPA1-2012
ESPA1-2521
ESPA1-4014
ESPA1-4021
ESPA1-4040
ESPA1-LD-4040
ESPA1-8040
ESPA2-1640
ESPA2-4040
ESPA2-LD-4040
ESPA2-LD
ESPA2-LD-MAX
ESPA2-MAX
ESPA2-365
ESPA2-8040
ESPA2+
ESPA-MAX-8040
ESPA2 MAX
ESPA3-4040 (out of production)
ESPA3-8040 (out of production)
ESPA4-4040
ESPA4-LD-4040
ESPA4-8040
ESPA4-LD
ESPA4 MAX
ESPA-B
ESPA B-MAX
ESPA B-1640
ESPA UP-8040
Seawater (SWC)
SWC-2514
SWC-2521 (replaces the SWC2-2521)
SWC-2540 (replaces both the SWC1-2540 and SWC2-2540)
SWC-4014
SWC-4021
SWC1-4040 (check SWC5/6)
SWC1-8040 (replaced by SWC4)
SWC2-4040 (check SWC5/6)
SWC2-8040 (replaced by SWC4)
SWC3-8040 (replaced by SWC4)
SWC3-plus
SWC4-plus
SWC4+8040
SWC4B-8040
SWC4B-MAX-8040
SWC4-LD
SWC4-1640
SWC4B-LD
SWC4B-MAX
SWC4-MAX
SWC4B
SWC5-1640
SWC5-4040
SWC5-LD
SWC5-LD-4040
SWC5-MAX
SWC6-4040
SWC6-LD-4040
SWC6-8040
SWC6-MAX
SWC6-LD
High Rejection (CPA)
CPA-4040E
CPA2
CPA2-4040
CPA2-8040
CPA3
CPA3-8040
CPA3 LD-8040
CPA4
CPA4-8040 (replaced by CPA3)
CPA5-LD
CPA5-LD-4040
CPA5-LD-8040
CPA5 MAX
CPA5-max-8040
CPA7-LD
Low Fouling (LFC)
LFC1
LFC2
LFC3-LD
LFC3-LD-4040
LFC3-LD-8040
LFC1-4040 (use LFC3-LD)
LFC2-4040 (use LFC3-LD)
LFC1-8040 (use LFC3-LD)
LFC2-8040 (use LFC3-LD)
Sanitary
SanRO ESPA2
SanRO CPA3
SanRO LFC3
SanRO CPA4
SanRO HS-4
SanRO HS-8
SanRO HS-4040
SanRO HS2-4040
SanRO HS-8040
SanRO HS2-8040
DairyUF 5K 8
DairyRO
DairyRO 4
DairyUF 10K 4
Dairy NF 4
Nano Filtration (ESPA)
ESNA1-4040
ESNA1-LF1-LD-4040
ESNA1-LF2-LD-8040 (replaces ESNA1-8040)
ESNA1-LF2-8040
ESNA1-LF-LD
ESNA1-LF2-LD
ESNA-LF2-LD-4040
NANO-BW
NONO-BW-MAX
NANO-SW

Brackish Water 4″ (Low Energy)

LC-HR-4040
LE-4040
LC-LE-4040
XLE-440
Brackish Water 8″
BW30-330
BW30-365-IG replaced by BW30-365
BW30-400-IG replaced by BW30-400
BW30-400-IG
BW30-440i
BW30-440 replaced by BW30HR-440
BW30-440i replaced by BW30HR-440i
BW30-400/34 IG replaced by BW30-400/34 / BW30-400/34i
Fortilife CR100
Brackish Water 8″ (Low Energy)

BW30-400/34
BW30-400/34i
BW30LE-440 (out of production)
BW30HR-440i
HRLE-440 replaced by Eco Pro-440 / Eco Platinum-440 / BW30HRLE-440
HRLE-440i replaced by Eco Pro-440i / Eco Platinum-440i / BW30HRLE-440i
HSRO-390-FF
HSRO-4040-FF
Seawater 2.5″

SW30-2514
SW30-2521
SW30-2540
SW30HR-2514
SW30HR-2521
SW30HR-2540
Seawater 4″

SW30-4021
SW30-4040
SW30HR-4021
SW30HR-4040
SW30HR-LE-4040
Seawater 8″

SW30-380
SW30-6040
SW30-8040
SW30HR-320
SW30HR-380
SW30HR-8040
SW30HRLE-370-34i
SW30HRLE-400
SW30HRLE-400i
SW30HRLE-440i
SW30ULE-400i
SW30ULE-440i
SW30XHR-400i
SW30XHR-440i
SW30XLE-400i
SW30XLE-440
Sea Water – Dry

FilmTec™ SW30HRLE-400
FilmTec™ SW30HRLE-440(i)
FilmTec™ SW30XLE-400
FilmTec™ SW30XLE-440(i)
FilmTec™ SW30XFR-400/34(i)
FilmTec™ SW30HR-380
FilmTec™ SW30HRLE-370/34(i)
FilmTec™ Seamaxx™
High Purity Water 8″

Eco 400i replaced by Eco Pro-400 / Eco Pro-400i
Eco 440i replaced by Eco Pro 440 / Eco Pro 440i / EcoPlatinum-440 / Eco Platinum-440i
Eco 500i
Fouling Durable 8″

BW30FR-365 replaced by BW30-400/34 / BW30-400/34i
BW30FR-400 replaced by BW30-400/34 / BW30-400/34i
BW30FR-400-34i
BW30XFR-400-34i
BW30XFR-400/34
Semiconductor Low Energy 8″
SG30LE-400
SG30LE-440i
SG30-400/34i
Water Recover / Brine Concentratioin
Fortilife XC70
Fortilife XC80
Fortilife XC-N
Extra Low Energy

XLE-2514
XLE-2521
XLE-2540
XLE-4014
XLE-4021
XLE-4040
Food Grade

DOW™ HYPERSHELL™ NF245-8038
DOW™ HYPERSHELL™ NF-8038
DOW™ HYPERSHELL™ RO-8038
DOW™ HYPERSHELL™ RO-8038/48
FILMTEC™ Maple Sap Mark E4
FILMTEC™ Maple Sap Mark E8
FILMTEC™ Maple Sap Mark I
FILMTEC™ NF245-390-FF
FILMTEC™ NF245-3838/30-FF
FILMTEC™ NF245-3840/30-FF
FILMTEC™ RO-3838/30-FF
FILMTEC™ RO-3840/30-FF
FILMTEC™ RO-8038
Fiber Glass
BW30-2540
BW30-4040
BW30LE-4040 replaced by LE-4040
Industrial Special
XUS120304
XUS120308
XUS180802
XUS180804
XUS180808
XUS290504
XUS290508
XUS290904
XUS290908
Brackish Water 4″ (Low Energy)

LC-HR-4040
LE-4040
LC-LE-4040
XLE-440
Brackish Water 4″
BW30-4014
BW30-4021
BW30-4040
BW30HP-4040
Brackish Water 8″
BW30-330
BW30-365-IG replaced by BW30-365
BW30-400-IG replaced by BW30-400
BW30-400-IG
BW30-440i
BW30-440 replaced by BW30HR-440
BW30-440i replaced by BW30HR-440i
BW30-400/34 IG replaced by BW30-400/34 / BW30-400/34i
Fortilife CR100
Brackish Water 8″ (Low Energy)

BW30-400/34
BW30-400/34i
BW30LE-440 (out of production)
BW30HR-440i
HRLE-440 replaced by Eco Pro-440 / Eco Platinum-440 / BW30HRLE-440
HRLE-440i replaced by Eco Pro-440i / Eco Platinum-440i / BW30HRLE-440i
HSRO-390-FF
HSRO-4040-FF
Seawater 2.5″

SW30-2514
SW30-2521
SW30-2540
SW30HR-2514
SW30HR-2521
SW30HR-2540
Seawater 4″

SW30-4021
SW30-4040
SW30HR-4021
SW30HR-4040
SW30HR-LE-4040
Seawater 8″

SW30-380
SW30-6040
SW30-8040
SW30HR-320
SW30HR-380
SW30HR-8040
SW30HRLE-370-34i
SW30HRLE-400
SW30HRLE-400i
SW30HRLE-440i
SW30ULE-400i
SW30ULE-440i
SW30XHR-400i
SW30XHR-440i
SW30XLE-400i
SW30XLE-440
Sea Water – Dry

FilmTec™ SW30HRLE-400
FilmTec™ SW30HRLE-440(i)
FilmTec™ SW30XLE-400
FilmTec™ SW30XLE-440(i)
FilmTec™ SW30XFR-400/34(i)
FilmTec™ SW30HR-380
FilmTec™ SW30HRLE-370/34(i)
FilmTec™ Seamaxx™
High Purity Water 8″

Eco 400i replaced by Eco Pro-400 / Eco Pro-400i
Eco 440i replaced by Eco Pro 440 / Eco Pro 440i / EcoPlatinum-440 / Eco Platinum-440i
Eco 500i
Fouling Durable 8″

BW30FR-365 replaced by BW30-400/34 / BW30-400/34i
BW30FR-400 replaced by BW30-400/34 / BW30-400/34i
BW30FR-400-34i
BW30XFR-400-34i
BW30XFR-400/34
Semiconductor Low Energy 8″
SG30LE-400
SG30LE-440i
SG30-400/34i
Water Recover / Brine Concentratioin
Fortilife XC70
Fortilife XC80
Fortilife XC-N
Extra Low Energy

XLE-2514
XLE-2521
XLE-2540
XLE-4014
XLE-4021
XLE-4040
Food Grade

DOW™ HYPERSHELL™ NF245-8038
DOW™ HYPERSHELL™ NF-8038
DOW™ HYPERSHELL™ RO-8038
DOW™ HYPERSHELL™ RO-8038/48
FILMTEC™ Maple Sap Mark E4
FILMTEC™ Maple Sap Mark E8
FILMTEC™ Maple Sap Mark I
FILMTEC™ NF245-390-FF
FILMTEC™ NF245-3838/30-FF
FILMTEC™ NF245-3840/30-FF
FILMTEC™ RO-3838/30-FF
FILMTEC™ RO-3840/30-FF
FILMTEC™ RO-8038
Fiber Glass
BW30-2540
BW30-4040
BW30LE-4040 replaced by LE-4040
Industrial Special
XUS120304
XUS120308
XUS180802
XUS180804
XUS180808
XUS290504
XUS290508
XUS290904
XUS290908

Brackish Water – nanoReverse Osmone Membrane

K 4040-C
K 4040-C-Dry
K 8040-C
K 8040-C2
K 8040-C3
K 8040-C-Dry
K 8040-C2-Dry
K 8040-C3-Dry
KC 4040-C
KC 8040-C
KC 8040-C2
KC 8040-C3
Brackish Water – nanoReverse Osmone Membrane (Extra Low Pressure)

КСН 4040-С
КСН 4040-С-DRY
КСН 4040-F
КСН 4040-F-DRY
КСН 8040-C
КСН 8040-С3
КСН 8040-С-DRY
КСН 8040-С3-DRY
КСН 8040-F
КСН 8040-F3
КСН 8040-F-DRY
КСН 8040-F3-DRY
Brackish Water – Nanofiltration Membrane



4040-F
4040-F2
4040-F3
4040-F-DRY
4040-F2-DRY
4040-F3-DRY
8040-F
8040-F2
8040-F3
8040-F-DRY
8040-F2-DRY
8040-F3-DRY
Brackish Water – nanoReverse Osmone Membrane (Desalination)

Sea Water – nanoReverse Osmose Membrane
КМ 2540-С
КМ 4040-С
КМ 8040-С
КМ 8040-С2
КМ 8040
Brackish Water – nanoReverse Osmone Membrane

K 4040-C
K 4040-C-Dry
K 8040-C
K 8040-C2
K 8040-C3
K 8040-C-Dry
K 8040-C2-Dry
K 8040-C3-Dry
KC 4040-C
KC 8040-C
KC 8040-C2
KC 8040-C3
Brackish Water – nanoReverse Osmone Membrane (Extra Low Pressure)

КСН 4040-С
КСН 4040-С-DRY
КСН 4040-F
КСН 4040-F-DRY
КСН 8040-C
КСН 8040-С3
КСН 8040-С-DRY
КСН 8040-С3-DRY
КСН 8040-F
КСН 8040-F3
КСН 8040-F-DRY
КСН 8040-F3-DRY
Brackish Water – Nanofiltration Membrane



4040-F
4040-F2
4040-F3
4040-F-DRY
4040-F2-DRY
4040-F3-DRY
8040-F
8040-F2
8040-F3
8040-F-DRY
8040-F2-DRY
8040-F3-DRY
Brackish Water – nanoReverse Osmone Membrane (Desalination)

Sea Water – nanoReverse Osmose Membrane
КМ 2540-С
КМ 4040-С
КМ 8040-С
КМ 8040-С2
КМ 8040
Brackish Water
LG BW 400 ES
LG BW 440 ES
LG BW 400 R
LG BW 440 R
LG BW 400 AFR
LG BW 4040 AFR
LG BW 4040 ES
LG BW 4040 R
LG BW 4040 UES
Sea Water

LG SW 400 ES
LG SW 440 ES
LG SW 400 SR
LG SW 440 SR
LG SW 400 R
LG SW 440 R
LG SW 400 GR
LG SW 440 GR
Brackish Water
LG BW 400 ES
LG BW 440 ES
LG BW 400 R
LG BW 440 R
LG BW 400 AFR
LG BW 4040 AFR
LG BW 4040 ES
LG BW 4040 R
LG BW 4040 UES
Sea Water

LG SW 400 ES
LG SW 440 ES
LG SW 400 SR
LG SW 440 SR
LG SW 400 R
LG SW 440 R
LG SW 400 GR
LG SW 440 GR


Brackish Water – Standard

AG2540TM
AG4025T
AG4026F
AG4040C
AG4040FM
AG4040FM, 34
AG4040TM
AG8040C
AG8040F
AG8040F 400
AG8040N
AG8040N 400
AG8340F 400
Brackish Water – High Rejection Low Energy

AK-90
AK-365
AK-400
AK-400, 34
AK-440
Brackish Water – Extreme Low Pressure

Brackish Water (Cellulose Acetate)

CE4026F
CE4040FM
CE8040F
CE8040F, WET
Brackish Water – High Rejection (Cellulose Acetate)

Brackish Water (Desalination)

OSMO 411-HR(CA)
OSMO 416-HR(CA)
OSMO 811-HR(CA)
OSMO 813-HR(CA)
OSMO 815-HR(CA)
OSMO 817-HR(CA)
Brackish Water – High Rejection (Desalination)

OSMO 411-HR(PA)
OSMO 416-HR(PA)
OSMO 811-HR(PA)
OSMO 813-HR(PA)
OSMO 815-HR(PA)
OSMO 817-HR(PA)
Brackish Water – High Rejection (Industrial)

SE2540F30
SE2540F50
SE8040C30
Brackish Water – High Rejection (Low Fouling)

Sea Water – High Rejection

Sea Water – High Rejection Low Energy

Sea Water – Very High Rejection

Sea Water – Nanofiltration (Sulfate Removal)

SWSR-90
SWSR-400
SWSR-440
Municipal Drinking Water Plant 

Municipal Drinking Water – High Rejection (Reverse Osmosis)
MUNI-RO-400-HR
MUNI-RO-430-HR
Municipal Drinking Water –  High Rejection Low Energy (Reverse Osmosis)
MUNI-RO-400-HR-LE
MUNI-RO-430-HR-LE 
Municipal Drinking Water Plant – Ultra Low Energy (Reverse Osmosis)
Industrial – High Temperature
Duratherm EXL RO2540HR
Duratherm EXL RO8040HR
Duratherm EXL NF2540HR
Duratherm EXL NF4040HR
Duratherm EXL NF4040
Duratherm EXL NF8040HR
Duratherm EXL NF8040
Duratherm EXL UF2 8040
Industrial – High Pressure (Brackish Water)
INDUSTRIAL RO3 4040F35
INDUSTRIAL RO3 4040F50
INDUSTRIAL RO3 8040F35
INDUSTRIAL RO3 8040F50
INDUSTRIAL RO5 4040F35
INDUSTRIAL RO5 8040F35
INDUSTRIAL RO5 8040F50
INDUSTRIAL RO6 4040F35
INDUSTRIAL RO6 8040F35
Beverage & Bottled Water Production
BEV-RO-CG
BEV-RO-FF
BEV-RO-400-CG
BEV-RO-400-FF
BEV-RO-440-CG
BEV-RO-440-FF
BEV-RO-LE-WT-FF
BEV-RO-LE-400-FF
BEV-RO-LE-440-FF
Beverage & Bottled Water Production
Beverage & Bottled Water Production (Reverse Osmosis)
Beverage & Bottled Water Production (Reverse Osmosis Ultrafiltration)
Brackish Water – Standard

AG2540TM
AG4025T
AG4026F
AG4040C
AG4040FM
AG4040FM, 34
AG4040TM
AG8040C
AG8040F
AG8040F 400
AG8040N
AG8040N 400
AG8340F 400
Brackish Water – High Rejection Low Energy

AK-90
AK-365
AK-400
AK-400, 34
AK-440
Brackish Water – Extreme Low Pressure

Brackish Water (Cellulose Acetate)

CE4026F
CE4040FM
CE8040F
CE8040F, WET
Brackish Water – High Rejection (Cellulose Acetate)

Brackish Water (Desalination)

OSMO 411-HR(CA)
OSMO 416-HR(CA)
OSMO 811-HR(CA)
OSMO 813-HR(CA)
OSMO 815-HR(CA)
OSMO 817-HR(CA)
Brackish Water – High Rejection (Desalination)

OSMO 411-HR(PA)
OSMO 416-HR(PA)
OSMO 811-HR(PA)
OSMO 813-HR(PA)
OSMO 815-HR(PA)
OSMO 817-HR(PA)
Brackish Water – High Rejection (Industrial)

SE2540F30
SE2540F50
SE8040C30
Brackish Water – High Rejection (Low Fouling)

Sea Water – High Rejection

Sea Water – High Rejection Low Energy

Sea Water – Very High Rejection

Sea Water – Nanofiltration (Sulfate Removal)

SWSR-90
SWSR-400
SWSR-440
Municipal Drinking Water Plant 

Municipal Drinking Water – High Rejection (Reverse Osmosis)
MUNI-RO-400-HR
MUNI-RO-430-HR
Municipal Drinking Water –  High Rejection Low Energy (Reverse Osmosis)
MUNI-RO-400-HR-LE
MUNI-RO-430-HR-LE 
Municipal Drinking Water Plant – Ultra Low Energy (Reverse Osmosis)
Industrial – High Temperature
Duratherm EXL RO2540HR
Duratherm EXL RO8040HR
Duratherm EXL NF2540HR
Duratherm EXL NF4040HR
Duratherm EXL NF4040
Duratherm EXL NF8040HR
Duratherm EXL NF8040
Duratherm EXL UF2 8040
Industrial – High Pressure (Brackish Water)
INDUSTRIAL RO3 4040F35
INDUSTRIAL RO3 4040F50
INDUSTRIAL RO3 8040F35
INDUSTRIAL RO3 8040F50
INDUSTRIAL RO5 4040F35
INDUSTRIAL RO5 8040F35
INDUSTRIAL RO5 8040F50
INDUSTRIAL RO6 4040F35
INDUSTRIAL RO6 8040F35
Beverage & Bottled Water Production
BEV-RO-CG
BEV-RO-FF
BEV-RO-400-CG
BEV-RO-400-FF
BEV-RO-440-CG
BEV-RO-440-FF
BEV-RO-LE-WT-FF
BEV-RO-LE-400-FF
BEV-RO-LE-440-FF
Beverage & Bottled Water Production
Beverage & Bottled Water Production (Reverse Osmosis)
Beverage & Bottled Water Production (Reverse Osmosis Ultrafiltration)
Brackish Water & Industrial Water – Standard Pressure High Rejection 4″



TM710
SU-710
SU-710L
SU-710R
Brackish Water & Industrial Water – Standard Pressure High Rejection 8″



TM700D
TM720-370 replaced by TM720-400
TM720-430 replaced by TM720-440
TM720C-400              
TM720C-430
TM720C-440
TM720D-400
TM720D-440
TM720L-400
TM720L-430
TML20D
SU-720
SU-720F
SU-720L
SU-720LF
SU-720R
TMG10
TMG20-370-400-440
TMH10A
TMH20A-370-400-430-440
Brackish Water & Industrial Water – Low Pressure Medium Rejection 4″



TMG10
TMG10D
TMH10
TMH10A
Brackish Water & Industrial Water – Low Pressure Medium Rejection 8″



TMG20-370
TMG20-400 replaced by TMG20-440C
TMG20-430 replaced by TMG20-440C
TMG20D-400
TMG20D-440
Brackish Water & Industrial Water – Ultra Low Pressure Medium Rejection 8″



TMH20A-370
TMH20A-400
TMH20A-430
TMH20A-440
Sea Water – Standard Pressure High Rejection 8″



TM820-370 replaced by TM820C-370 discontinued
TM820-400 replaced by TM820C
400 discontinued
TM820A-370 High Boron Rejection
TM820A-400
TM820C-370
TM820C-400
TM820E-400
TM820F-370
TM820K-400
TM820K-440
TM820L-400
TM820L-440
TM820R-400
TM820R-440
TM820S-400
TM820S-440
TM820V-400
TM820V-440
TM810L
TM810F
TM840M1760
TM840R-1760
TM840V-1760
Sea Water – Low Pressure 8″



Sea Water – Energy Saving 4″



Sea Water – High Pressure High Rejection 8″



TM800M
TM820M-400
TM820M-440
TM820H-370
TM820H-400
Sea Water – High Pressure 8″



SU-820
SU-820FA
SU-820L
SU-820BCM
Sea Water – High Pressure 8″



SU-820
SU-820FA
SU-820L
SU-820BCM
Sea Water – High Pressure 4″



Low Fouling Water – Standard Pressure High Rejection 4″



Low Fouling Water – Standard Pressure High Rejection 8″



TML20-370
TML20-370D
TML20-400
TML20-400D
TML20N-400 replaced by TML20D-400
TML20D-370
TML20DA400
TML20D-400
Hot Water Sanitizable – Standard Pressure 4″



Hot Water Sanitizable – Low Pressure 4″



Hot Water Sanitizable – Low Pressure 8″



Ultra Pure Water – Standard Pressure 4″



Ultra Pure Water – Standard Pressure 8″



Ultra Pure Water – Low Pressure 8″



Ultra Pure Water – Low Pressure 8″



Brackish Water & Industrial Water – Standard Pressure High Rejection 4″



TM710
SU-710
SU-710L
SU-710R
Brackish Water & Industrial Water – Standard Pressure High Rejection 8″



TM700D
TM720-370 replaced by TM720-400
TM720-430 replaced by TM720-440
TM720C-400              
TM720C-430
TM720C-440
TM720D-400
TM720D-440
TM720L-400
TM720L-430
TML20D
SU-720
SU-720F
SU-720L
SU-720LF
SU-720R
TMG10
TMG20-370-400-440
TMH10A
TMH20A-370-400-430-440
Brackish Water & Industrial Water – Low Pressure Medium Rejection 4″



TMG10
TMG10D
TMH10
TMH10A
Brackish Water & Industrial Water – Low Pressure Medium Rejection 8″



TMG20-370
TMG20-400 replaced by TMG20-440C
TMG20-430 replaced by TMG20-440C
TMG20D-400
TMG20D-440
Brackish Water & Industrial Water – Ultra Low Pressure Medium Rejection 8″



TMH20A-370
TMH20A-400
TMH20A-430
TMH20A-440
Sea Water – Standard Pressure High Rejection 8″



TM820-370 replaced by TM820C-370 discontinued
TM820-400 replaced by TM820C
400 discontinued
TM820A-370 High Boron Rejection
TM820A-400
TM820C-370
TM820C-400
TM820E-400
TM820F-370
TM820K-400
TM820K-440
TM820L-400
TM820L-440
TM820R-400
TM820R-440
TM820S-400
TM820S-440
TM820V-400
TM820V-440
TM810L
TM810F
TM840M1760
TM840R-1760
TM840V-1760
Sea Water – Low Pressure 8″



Sea Water – Energy Saving 4″



Sea Water – High Pressure High Rejection 8″



TM800M
TM820M-400
TM820M-440
TM820H-370
TM820H-400
Sea Water – High Pressure 8″



SU-820
SU-820FA
SU-820L
SU-820BCM
Sea Water – High Pressure 8″



SU-820
SU-820FA
SU-820L
SU-820BCM
Sea Water – High Pressure 4″



Low Fouling Water – Standard Pressure High Rejection 4″



Low Fouling Water – Standard Pressure High Rejection 8″



TML20-370
TML20-370D
TML20-400
TML20-400D
TML20N-400 replaced by TML20D-400
TML20D-370
TML20DA400
TML20D-400
Hot Water Sanitizable – Standard Pressure 4″



Hot Water Sanitizable – Low Pressure 4″



Hot Water Sanitizable – Low Pressure 8″



Ultra Pure Water – Standard Pressure 4″



Ultra Pure Water – Standard Pressure 8″



Ultra Pure Water – Low Pressure 8″



Ultra Pure Water – Low Pressure 8″