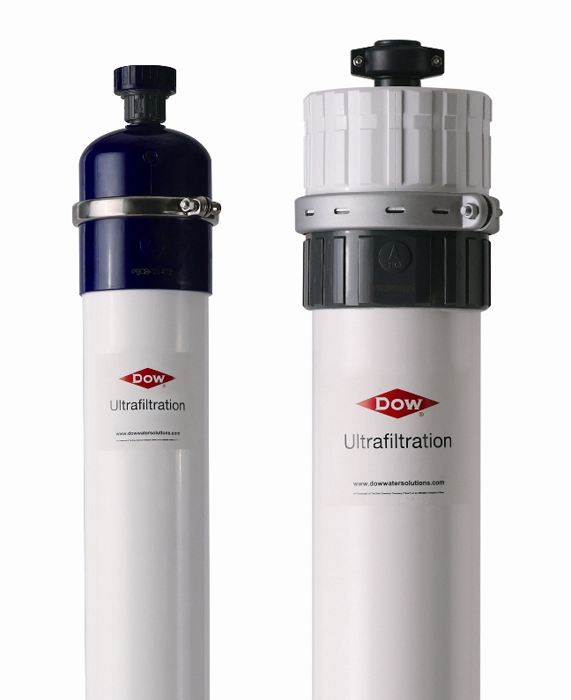 Ultrafiltration (UF) membrane filtration is a low pressure membrane process for water treatment that is designed to remove turbidity causing particles including those comprised of suspended solids, bacteria, colloidal matter and proteins.
The main separation mechanism of UF membrane filtration is size exclusion or sieving and the graphic illustrates that UF effectively removes particles in the size range of less than 0.01 to 0.1 mm. Effective removal of these contaminants in a source water results in a filtrate well suited for further treatment by downstream reverse osmosis.
The UF process is used in a wide variety of applications and industries and typical feed sources include seawater, surface, well and waste waters.
HYDRAcap
HYDRAcap-40
HYDRAcap-40-LD
HYDRAcap-MAX-40
HYDRAcap-60
HYDRAcap-60-LD
HYDRAcap-MAX-60
HYDRAcap-80
HYDRAcap-MAX-80

IntegraPac
IP-51 / IPD-51
IP-51XP / IPD-51XP
IP-77 / IPD-77
IP-77XP / IPD-77XP
IntegraPac Ultrafiltration Skids
IP-51 / IPD-51 6-22 modules
IP-51X / IPD-51XP 6-22 modules
IP-77 / IPD-77 6-22 modules
IP-77X / IPD-77XP 6-22 modules
IntegraFlux
SFP-2660XP
SFD-2660XP
SFP-2860XP
SFD-2860XP
SFP-2880XP
SFD-2880XP
LigaSep
LDM 040-HS / LDM 040-LS
LDM 120-HS / LDM 120-LS

NanoUF series
NanoUF 4040-F20
NanoUF 8040-F20
NanoUF 4040-F50
NanoUF 8040-F50
NanoUF series
NanoUF 4040-F20
NanoUF 8040-F20
NanoUF 4040-F50
NanoUF 8040-F50

MUSA SS (Pressurized UF)
MUSA-SS-TECH-18014.102
(6″ Modules – TIPS PVDF)
MUSA-SS-TECH-18022.102
(6″ Modules – NIPS PVDF)
MUSA-SS-TECH-18005.109
(10" Modules Series – TIPS PVDF )
MUSA-SS-TECH-18023.101
(10″ Modules – NIPS PVDF)
MUSA-PID-TECH-18018.402
(Dual Filtrate Port "ED" Modules)
MUSA SS (Pressurized UF)
MUSA-SS-TECH-18014.102
(6″ Modules – TIPS PVDF)
MUSA-SS-TECH-18022.102
(6″ Modules – NIPS PVDF)
MUSA-SS-TECH-18005.109
(10" Modules Series – TIPS PVDF )
MUSA-SS-TECH-18023.101
(10″ Modules – NIPS PVDF)
MUSA-PID-TECH-18018.402
(Dual Filtrate Port "ED" Modules)

GE Series

GE2540F30
GE2540F50
GE4040C50
GE4040F30
GE8040F30
GE8040F50
GH Series

GH2540C50
GH2540F30
GH4040F30
GH4040F50
GH8040C30
GH8040C50
GH8040F30
GH8040F50
GK Series

GK2540F30
GK2540F50
GK4040F30
GK4040F50
GK8040C50
GK8040F30
GK8040F50
PW Series

PW2540C30
PW2540F30
PW2540F50
PW4025T
PW4040C30
PW4040C50
PW4040F30
PW8040C50
PW8040F30
PW8040F50
PW8340C50
ZeeWeed Series

ZW700B 125
ZW700B 225
ZW700B 250
ZW700B 450
ZW700B 4100
ZW700B 4150
ZW700B-8060A
ZW700B-8060 Bev Horz
ZW700B-8060 Horz
ZW700B-9060
ZW700B-9060 standard
ZW700B-10060 SB 1.5
ZW700B-10060 SB 2.2
ZW700B-10060 with caps
ZW700B-10060 without caps
ZW700B
ZW700B RMS
ZW1000
ZW1000 NGC
ZW1000 TT
ZW1500 junior
ZW1500 RMS
ZW1500 X
MW Series

MW2540F30
MW4040F50
MW8040C50
MW8040F50
GE Series

GE2540F30
GE2540F50
GE4040C50
GE4040F30
GE8040F30
GE8040F50
GH Series

GH2540C50
GH2540F30
GH4040F30
GH4040F50
GH8040C30
GH8040C50
GH8040F30
GH8040F50
GK Series

GK2540F30
GK2540F50
GK4040F30
GK4040F50
GK8040C50
GK8040F30
GK8040F50
PW Series

PW2540C30
PW2540F30
PW2540F50
PW4025T
PW4040C30
PW4040C50
PW4040F30
PW8040C50
PW8040F30
PW8040F50
PW8340C50
ZeeWeed Series

ZW700B 125
ZW700B 225
ZW700B 250
ZW700B 450
ZW700B 4100
ZW700B 4150
ZW700B-8060A
ZW700B-8060 Bev Horz
ZW700B-8060 Horz
ZW700B-9060
ZW700B-9060 standard
ZW700B-10060 SB 1.5
ZW700B-10060 SB 2.2
ZW700B-10060 with caps
ZW700B-10060 without caps
ZW700B
ZW700B RMS
ZW1000
ZW1000 NGC
ZW1000 TT
ZW1500 junior
ZW1500 RMS
ZW1500 X
MW Series

MW2540F30
MW4040F50
MW8040C50
MW8040F50